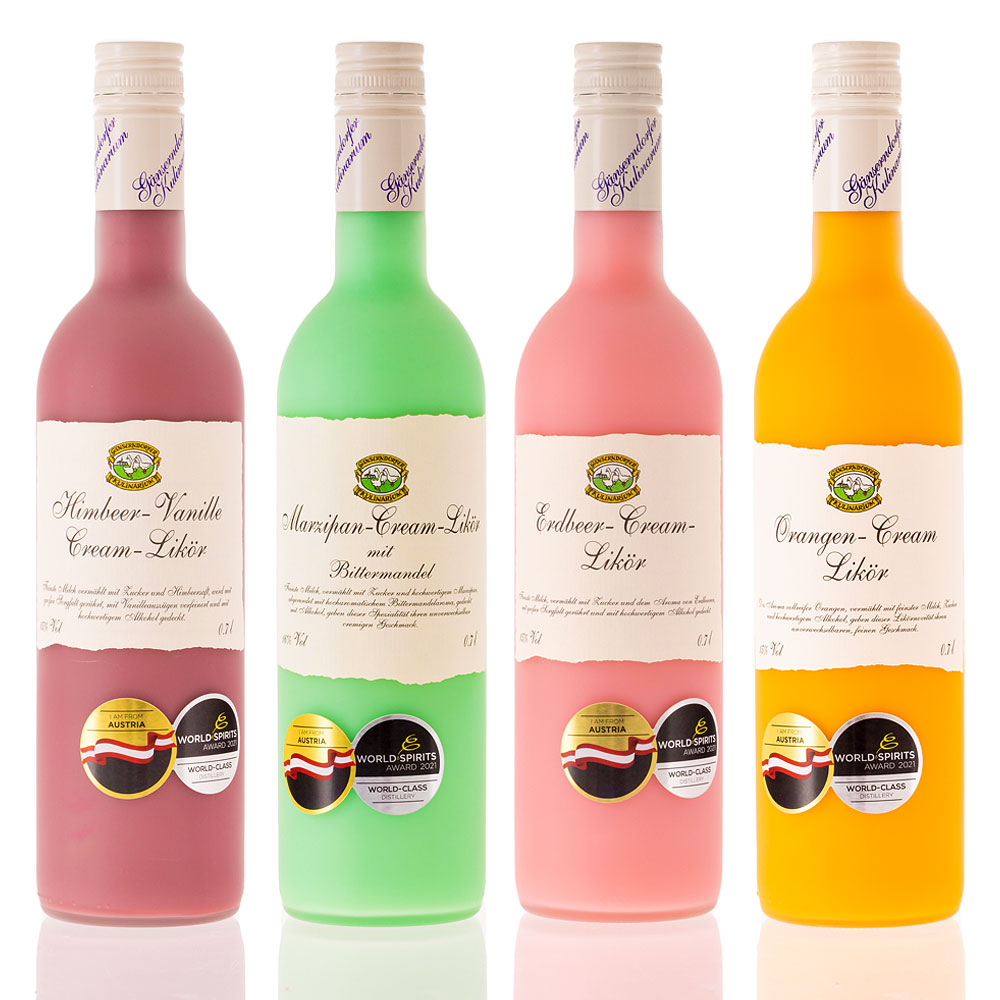 Horvath's creAm liqueurs
We offer over 30 varieties of liqueur – And what a selection we have! Try your first cream liqueur, and you will have a culinary experience that you will never forget. It is good to know that the best ingredients and traditions are still a measure of quality, even today. Their full-bodied flavours, with many subtle nuances, perfectly complement baked goods or ice-creme.
Treat yourself to an Austrian speciality! See our products as listed…

EGG CREAM LIQUEUR with BOURBON VANILLA
We guarantee that this quality product is made using only fresh eggs mixed with unskimmed milk, double creme, sugar,  alcohol, lemon zest, vanilla beans and extracts of bitter almonds  to give this liqueur specialty its full-bodied flavour.
MARZIPAN CREAM LIQUEUR
You'll already be overwhelmed by the colour of this liqueur – and excited at the first sip.  A creamy delight, tasting of high-quality marzipan and almonds.
GINGERBREAD LIQUEUR
Gänserndorf gingerbread liqueur is a delectable drink made from milk and gingerbread spice, that will put you in the Christmas spirit from the very first sip. Try it warmed, with a pinch of cinnamon and topped with whipped creme – it's simply delicious!
BANANA CREAM LIQUEUR
Just the smell of this liqueur will overwhelm you – the first sip will wow you. A creamy delight with the fruity taste of delicious melons – of summer and the sun.
CHERRY CREAM LIQUEUR
Who doesn't love the beautiful first cherries maturing on the trees in June? We've conjured up a fruity, creamy liqueur novelty out of these delicious fruits, mixed with milk, sugar and alcohol.
COCONUT CREAM LIQUEUR
The finest milk combined with white sugar and the delicious aroma of coconut milk covered with top quality alcohol of agricultural origin gives this liqueur its special aroma. Try our Coconut-Cream Liqueur chilled or with ice!
CHOCOLATE ORANGE CREAM LIQUEUR
Finest milk combined with white sugar and the aroma of ripe oranges as well as the delicate flavour of selected chocolate give this liqueur its special touch. Already the most famous chocolatiers used the finest chocolate with a zest of orange for their best innovations – we have advanced this recipe for our liquid temptation.
LIQUID APPLE PIE LIQUEUR
A new liqueur specialty that we worked long and hard to create. Liquid Apple Pie lives up to its name: Try this creamy liqueur with the unique taste of apples, cinnamon and raisins.
MINT CHOCOLATE CREAM LIQUEUR
Treat yourself to something special with this unique liqueur that is mixed with peppermint to give it a distinctive note. The peppermint refreshes while emphasizing the subtile chocolate flavour.
CHOCOLATE CREAM LIQUEUR
Treat yourself to this unique chocolate cream liqueur, which has been mixed with a dash of rum to give it a special note.
HAZELNUT CREAM LIQUEUR
People always appreciated the nutty flavour of hazelnuts and that`s why they are often used as a basis for chocolates or ice creams. Made from perfectly ripened hazelnuts and flavoured with the finest ingredients, this hazelnut liqueur is unique. This is why our hazelnut liqueur the ideal addition to any ice cream dish or the perfect "shot" of extra flavour for your coffee.
ORANGE CREAM LIQUEUR
Those who love the unusual should absolutely try this liqueur specialty! creamy delight with the fruitiness and sweetness of oranges, rounded out with a dash of lemon juice.
APRICOT CREAM LIQUEUR
Our Apricot cream Liqueur stands out with its fruitiness and light acidity. Every sip reminds you of sweet, ripe apricots, summer and sun. Enjoy our Apricot creme Liqueur chilled or with ice cream or sweet pastries.
COFFEE CREAM LIQUEUR
Treat yourself to the taste of Brazilian coffee beans, whose unique aroma really makes itself felt in this liqueur speciality.  Enjoy our coffee liqueur on its own, with a dash of rum – or else heat it briefly and serve it topped with whipped cream.
RASPBERRY VANILLA CREAM LIQUEUR
If you like raspberries, you are certain to love this liqueur specialty: Fruity raspberries and delicate vanilla extracts together with its creamy taste makes this liqueur simply unique!
HONEYDEW MELON CREAM LIQUEUR
Let yourself be pampered with this unique creme liqueur, enjoy the creamy, fruity taste of melon – not too sweet, and with a touch of sourness. Gänserndorfer honeydew melon cream liqueur tastes best chilled or mixed with an ice cube.
STRAWBERRY CREAM LIQUEUR
Taste the marriage of strawberries with cream, sugar and vanilla – creamy, sweet and unique. Drink it straight or enjoy it with vanilla ice creme.