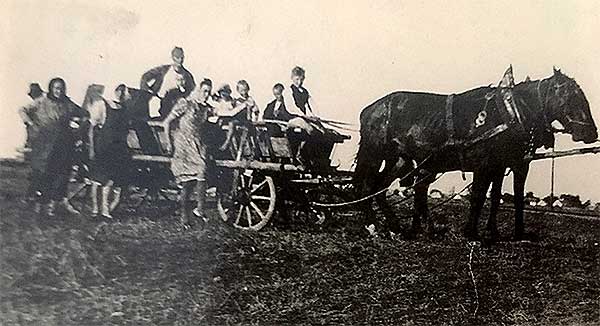 It all began with our grandparents (Andau, Burgenland)
Our Grannys, who had a small farm where they mostly grew vegetables, but also wine. Already back then they produced meat and sausage from their own livestock, made smoked specialties and also distilled their own schnapps. Our grandmother cooked homemade jams following traditional recipes that had been passed down through generations.
Est. 1996: Gerhard & Ulrike Horvath starting their Horvath's Spezereyen
Drawing upon these original family roots as farmers, the grandson, Gerhard Horvath, who graduated from the Federal College and Research Institute for Viticulture and Horticulture, began developing his own innovative ideas, trying old recipes and creating culinary gift items. In 1996, he and his wife founded the company Horvath's Spezereyen Kontor. The philosophy behind their products has always been to prepare and present the finest Austrian foods in the highest quality and in an innovative manner that touches upon the spirit of the times. Austrian Vodka & Spirits export activities around the world! In addition to the exclusive series of fine fruit brandies, Gänserndorfer Fine Fruit Brandies, the range of products also includes wild fruit liqueurs, schnapps and the most common spirits for the gastronomy. Horvath's Spezereyen Kontor also offers a particularly wide selection of gift packages with high quality spirits, or oil and vinegar specialties. The success of the company can be seen in its export activity, especially for Austrian vodka made from potatoes. The export of spirits has become a major part of the company's business. Austrian vodka and gin made from potatoes are exported to the USA, Poland and Ukraine; vodka and egg cream liqueur to Nigeria. Culinary gift items and liqueur specialities are exported to Germany, Slovenia, Italy and Switzerland.
We love to do our Job,
for the love of all the good things!
HORVATH'S PHILOSOPHY
Our company philosophy can be expressed in a few poignant words: For the love of good things, for the joy of the exceptional Austrian cuisine, for the pleasure of the delicious foods that are produced in Austria, and for the delight of the Austrian drinking culture, we produce a diverse range of products, culinary gift ideas, fine fruit brandies, novelty liqueurs and Austrian potato Vodka!
HORVATH'S FAMILY POWERED
We are an Austrian, family-powered production company for Austrian potato vodka, gin, unique liqueur specialties like egg cream-liqueur, many fruit and fruit-cream-liqueur as well as many other fine food specialties in one! The philosophy behind our products has always been to prepare and present Austrian foods and spirits in the highest quality and in an innovative manner that touches upon the spirit of the times.