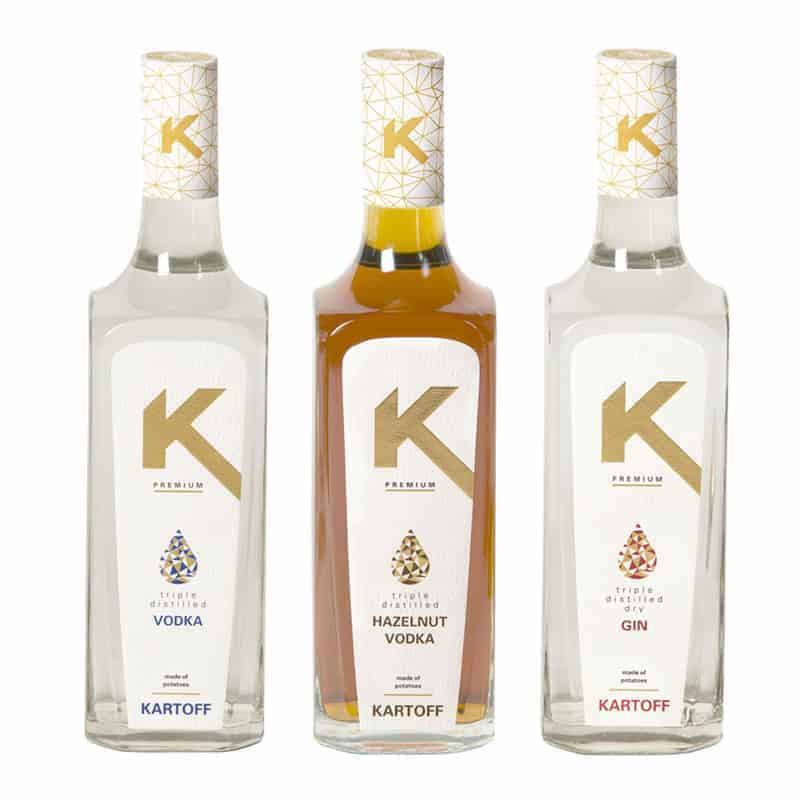 KARTOFF VODKA
Owes its reputation to premium quality. It is in a class by itself, as it is one of the few produced exclusively from potatoes. The potatoes used to make KARTOFF are grown in a limited area of north-eastern Austria where the soil is loamy and the climate is milder than in other parts of the country. The potatoes are selected and brought to the distillery, where they become crushed, yeast and water is added . The fermented mash is than put through a multi-stage-distillation colon andis distilled for several time. Only the heart of the distillation is used for the best quality of potato Vodka, Then special ingredients according to the distiller´s closely guarded traditional recipe are added.
The mild character and the light sweetness give KARTOFF VODKA its special note, which is only the peculiar vodkas of potatoes. KARTOFF VODKA has no equal for making martinis, serving on the rocks, and very well chilled and served in frosted shot glasses kept in the freezer. You can hardly think of better companion to caviar or smoked salmon hors d `oeuvres.
KARTOFF HAZELNUT VODKA
Fiery and hazelnutty
A new Challenge for your enjoyment! Roasted hazelnuts and nougat in a fiery tasteful Vodka. Be surprised – Kartoff Vodka melts away by natural aromas and fiery Vodka spirit. Old bottled: An old styled and high quality bottle fits to all requirements to been showed in a perfect way. Mix or pure: Hazelnut goes easily and has a fiery, tasty finish. For women and also for men! Addicted to Hazelnut: Delicious flavour of roasted hazelnuts and nougat – only with natural flavours! Austrian 'Hermes' potatoes from the green and sunny march-fields nearby Vienna are used for our Kartoff Vodka. Convincing in taste and appearance. The Austrian eye-catcher with 'this' international flair.
Fragrance: Hazelnut and wafer mixture full of nuances, coffee and roasty notes, sponge, nougat chocolate, a touch of vanilla. Taste: Manifold, typical nut and nougat aromas, candy-like, hazelnut creme, strong roasty aromas, coffee bread, roasted nuts, caramel, malt, honey, a lot of candy sweetness, some lime, perfect interplay of alcohol and sweetness, good length
KARTOFF GIN
Unique and excellent taste!
Gin made from potatoes, extremly fine character and density. Originally Gin Taste with finest ingredients: juniper berries, orange peel oil, lemon peel oil, coriander, aniseed, fennel and ginger. An very high quality bottle fits to all requirements to been showed in a perfect way. KARTOFF Gin unfolds its unique matrix, both pure and used in cocktails.
Fragrance: Diversified fragrance spectrum, juniper berries, vanilla, chocolate, melon, citrus top notes, orange, lime peel, lemon grass, menthol coolness, lemon balm, a touch of coffee, vanilla. Taste: Very aromatic, jammy, slightly yeasty, resinous and conifer-like, nice interplay of juniper and citrus, tangerine, peach, ginger, eucalyptus, compact body, balanced, long-lasting finish.